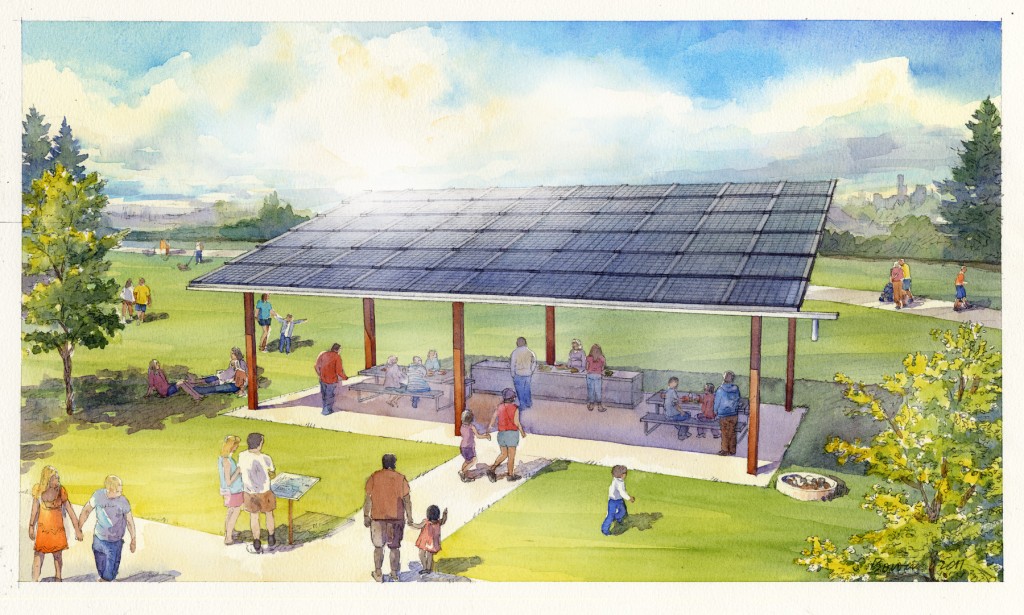 Sketch of a real-life community solar shelter in Jefferson Park, Washington. (Geekwire.com)
This morning, I read an analysis of community microgrid systems — and the problems with implementing them in real-world contexts, which leads to a 50-100% failure rate of microgrids/minigrids, usually due to the overconsumption of electricity.
Problems:
People use more electricity than they agree to, which puts strains on the system and equipment.
People make modifications to the system without consent/approval (e.g. to get more electricity, use different appliances), which also puts strains on the system and the equipment.
People don't want to police each other in maintaining this microgrid electricity commons.
Having a commercial entity run the microgrid may come with its own issues (although, in the spirit of Nondominium, an external impartial entity that has outcomes aligned with the community could be a good way to go forward.)
When reading about these issues, it brought me to communicate a vision I often think about, for the future of energy in our communities. The way it goes is this:
We don't have enough resources (e.g. copper, silicon, rare metals) for every single home to have its own rooftop solar or renewable installation. It would be nice and convenient if we did, but if we're being honest with ourselves, this seems like one more excess and overreach that we can't afford.

If we don't have the resource capacity to put renewable energy infrastructure on every single home, how can we make a renewable transition?
Answers come in the example of what places like Kokota and Puerto Rico are doing. In Puerto Rico, people are installing renewables on mutual support centers, which act as central locations where people can get electricity (e.g. for air conditioning, to charge devices, to get Internet, to store and prepare food) — especially during grid blackouts. (If there's a summer blackout, your AC stops working.)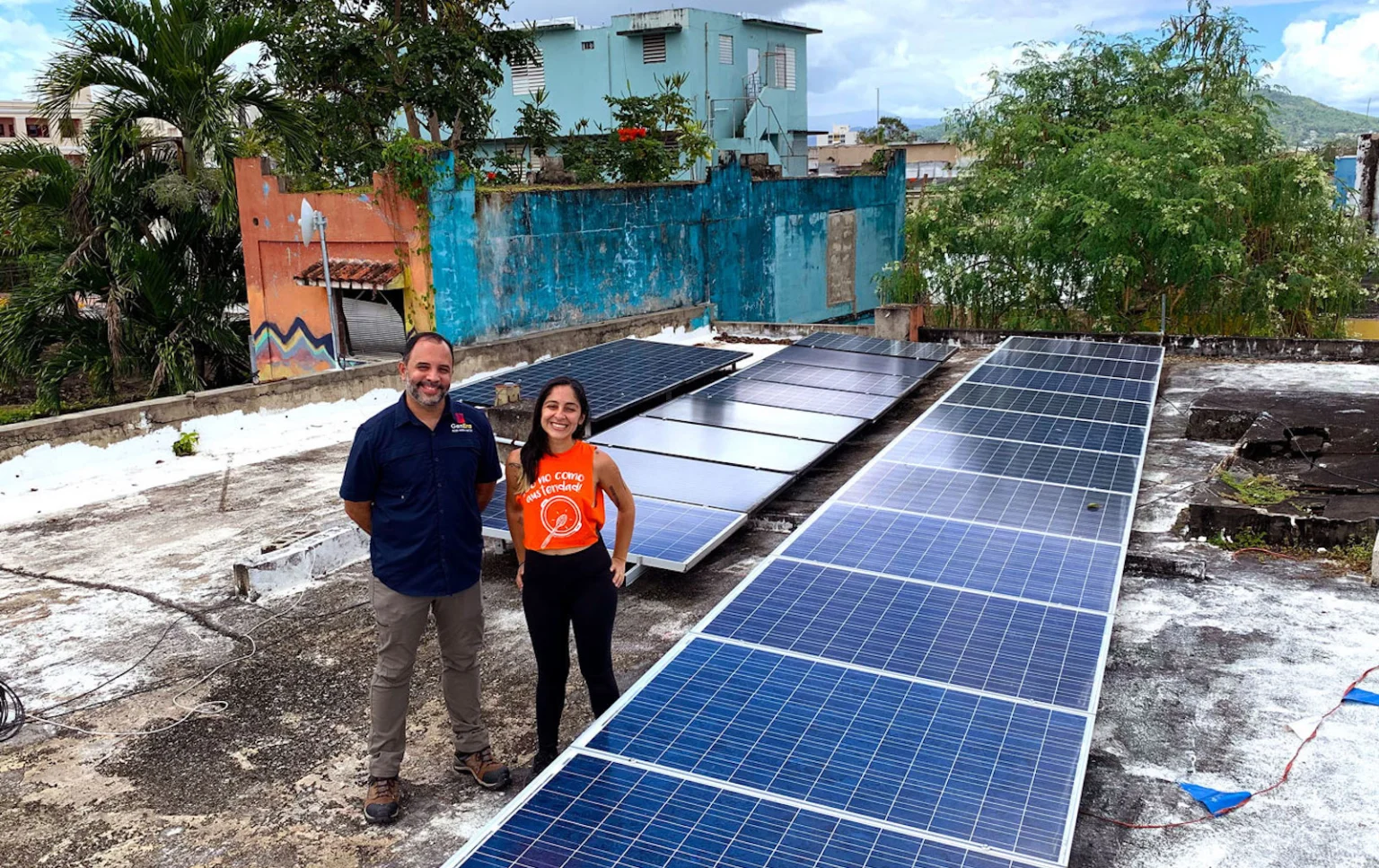 Renewable installation at the Mutual Support Center in Caguas, Puerto Rico. (Maria Gallucci / Canary Media, via Grist.org)
In Kokota, an islet in Tanzania, they have a central location where solar panels charge a bank of portable batteries. When people want electricity, they can come and take one of the batteries, and take the battery home with them to power things at home. When the battery runs out, they return it to the central solar-powered battery bank, and wait for it to recharge.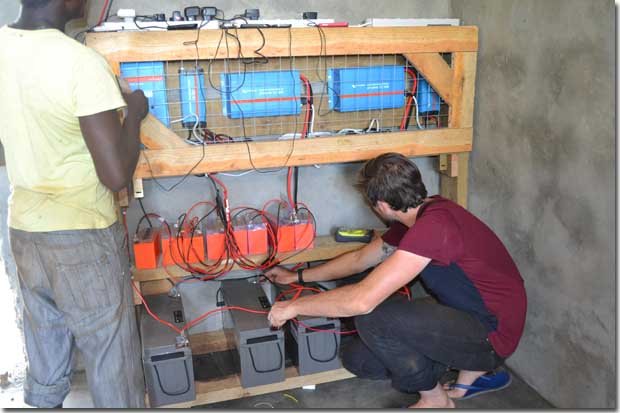 Solar-powered battery charging station in Kokota. (Jeff Schnurr, via Permaculturenews.org)
When thinking about my own community, the communal hub approach often comes to mind. Which is more feasible: adding solar panels to a hub in every community across the world, or adding roof-mounted solar panels to every house across the world?
Given material constraints on resources like copper and the realities of these systems – an isolated unit is much simpler than connected units – perhaps we should be reorienting some of our paradigms away from every house has its own electricity infrastructure and microgrid connection, to, when you want electricity – for heat, cooling, devices, powering tools, charging, internet, any use – you go to the community hub.
This approach likewise aligns with a postgrowth vision of community-centric, access-based paradigms — in contrast to individual-centric, ownership-based paradigms — and getting better at doing the things we want (e.g. heating, cooling, powering devices, working, getting Internet access) with less energy and resource consumption.
A relevant context we could explore this is Germany. As they cut back on gas from Russia, apartments will be limited to 17°C/62°F through gas heating. As the country explores its possibilities and winter gets closer, what strategy would you choose to provide additional energy capacity?
Implementing microgrids across every home in Germany
Adding renewable energy to community centers across Germany

Where people can go for warmth, to work on their laptops, take hot showers, cook on induction stoves, play games and watch movies, etc

Anything else?
I would choose the community approach — and that comes through the work of trying to actually learn how to bring a renewable transition to my community, and learning how much simpler it is to bring people to the energy.
Add comments/edits to this piece.